Balloons are perfect partners for your ceremonies.
Birthdays, baptisms, weddings and even store openings, balloons embellish. Why do you have to choose them? Let's start!
I. Respect for the environment
If they are made of 100% latex, then they are of good quality. Latex is a 100% natural material, therefore biodegradable. Depending on its size, a balloon can decompose after 2 or 3 months.
If you have to release balloons, it is this quality that you will have to choose to cause as little inconvenience as possible to nature. Make sure that balloons are not toxic. This way, you can put it in your children's mouths without fear. Balloons fly high and disintegrate into small pieces.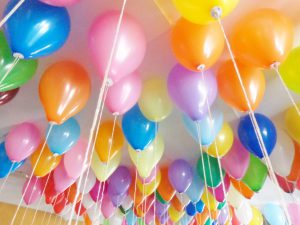 However, although natural latex is biodegradable, balloons still contain some chemical additives, if only to colour them. The dyes are not toxic but they are still chemical dyes so if you are an organic radical, you will not be completely satisfied. Also, if you are in a coastal area, be aware that pieces that fall into the ocean can lure fish, just like plastic bags. But overall, the latex balloon remains one of the greenest personalized goodies.
A latex balloon can stay inflated for 3 weeks or more. However, latex is porous and if you choose to inflate your balloons with helium, they will deflate much faster than if they are inflated in normal air. Helium particles are smaller than air particles. But to fly away, it simply needs to be inflated with helium.
III. The printing process
The marking on balloons can be done in several colors, well
beyond 4 and on 1 or 2 sides of the balloon. For very special requests, it is possible to make an impression all around the balloon.
As for the position of the marking, everything depends on you: you can print on the spot or upside down depending on the position  balloons will have. If you want to hang them from the ceiling, it would be better to print the logo upside down. So that once  balloons are in place, your logo appears in the right side.
The accessory is essential and changes the deal. A pretty ribbon of bolduc to close the balloons, the balloon rods that allow them to be held correctly (essential if you are making a distribution), the balloon tree, simply ingenious to decorate and make available the balloons, in a store for example…

If you would like more information about balloons, contact the Horizonsources team by orianne@horizonsources.com or call us on +237 665 075 23. For english version, click here